Hong Kong Scrabble players – Thomson LAW Long Yin and LOU Yuen Ching were awarded prizes in the ASTAR Scrabble Challenge International (ASCI) 2023.
Thomson LAW Long Yin was awarded the 2nd runner-up in the Open Category. While Thomson has been playing in the ASCI five times before, this is the first year Thomson has played in the Open Category. He won 12 out of 17 games with a cumulative spread of +354 points and ranked 3rd out of 40 players. "Still now can I hardly believe that I won a prize in the open category, a competitive field with strong players around the globe. Being probably the youngest player in the category, I enjoyed the good games played with experienced adult players that I have known there names since childhood but never had a chance to play with them in the past. I am pleased that I performed much more better than expected and managed to win some games versus stronger opponents. I even got the chance to play against Nigel, the World Champion, for three times and nearly get to win one of the games. Besides, I have remet some old friends (that we haven't met for years due to the pandemic) and also built new bondings with players from different countries. Overall, it is a jovial experience that brings me not only prizes, but also friendships and joyous moments. I am longing for playing in ASCI2024!" Thomson said. Thomson won 4th place in the Under-18 Category in the online ASCI last year. He is currently a student of Methodist College.
LOU Yuen Ching, Vanessa was awarded 5th place in the Under-18 Category. This is her second year playing in the ASCI and the first time competing in the Under-18 Category. She won 11 out of 15 games with a cumulative spread of +964 points and ranked 5th out of 88 players. Vanessa participated in the Under-15 Category and was awarded 15th place last year. Vanessa is currently studying in St. Paul's Co-educational College.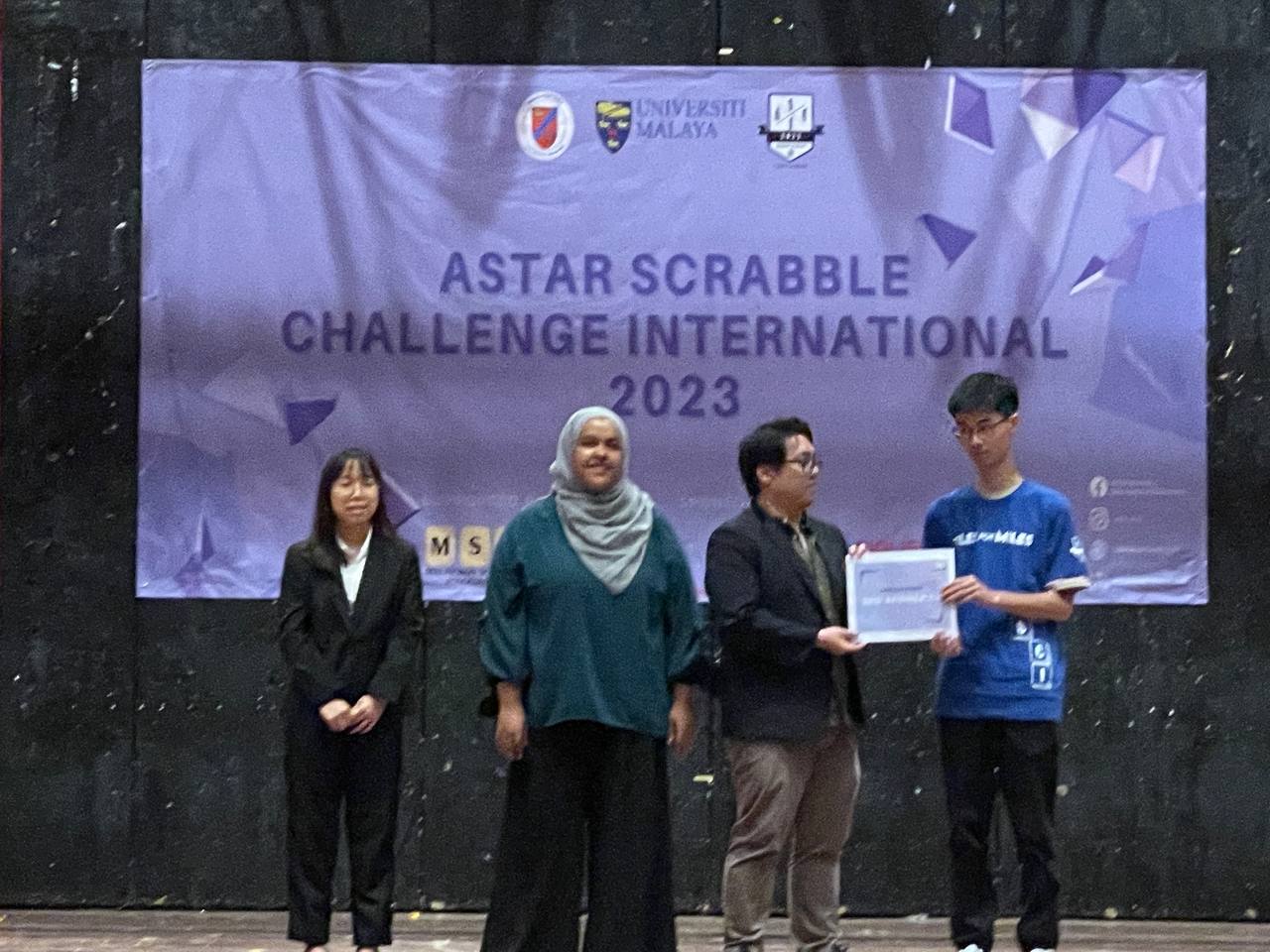 Apart from Thomson and Vanessa, other Hong Kong players also completed this challenging international tournament with a good result.
ASCI is an annual international Scrabble tournament organised by the First Residential College, University of Malaya. From 2021 to 2022, ASCI has temporarily moved to the internet due to the coronavirus pandemic. This year, ASCI resumed its usual face-to-face format and attracted over 200 players worldwide to participate in this event.
Congratulations to all the prize winners once again!