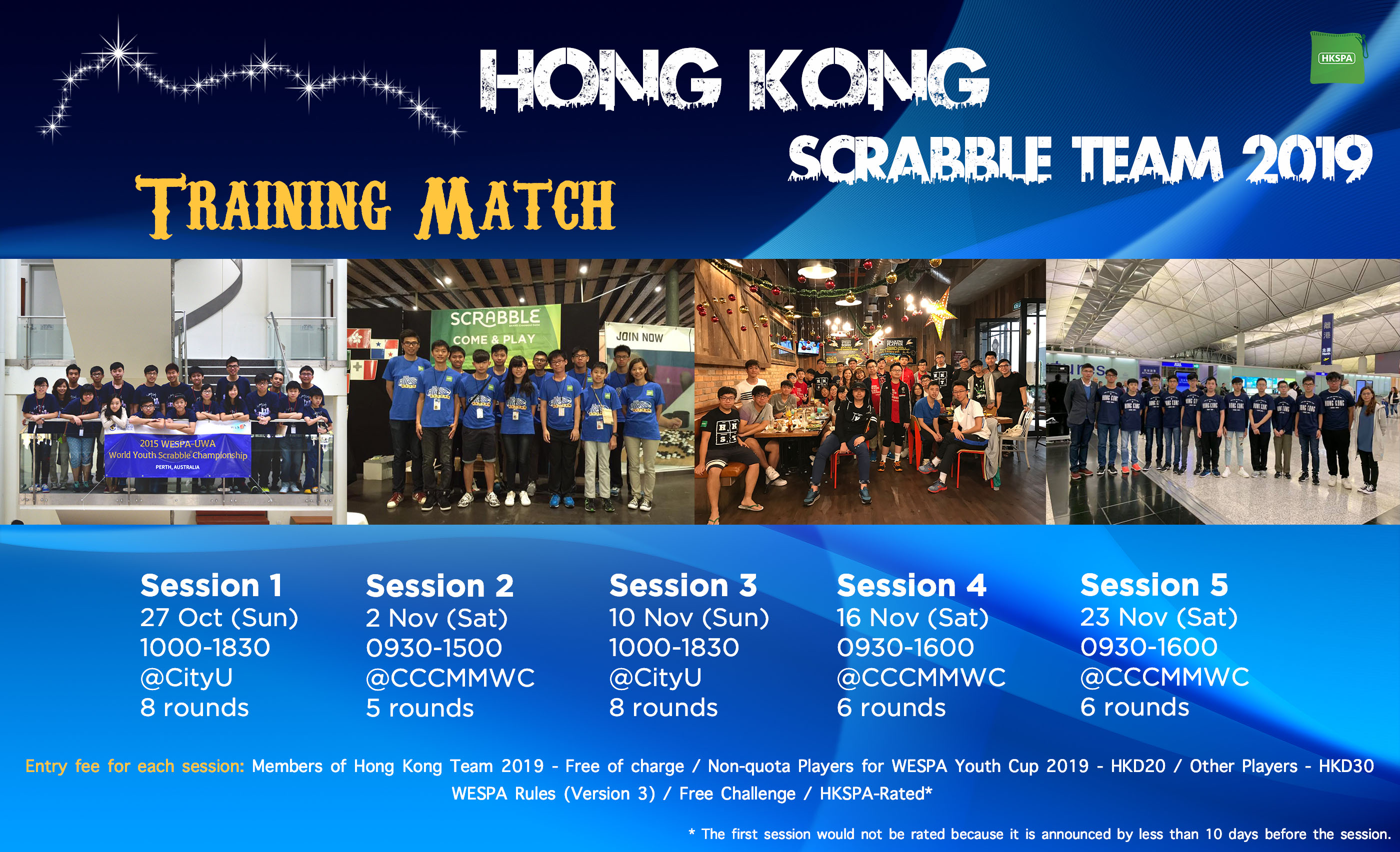 Entry Handout
Session 1 (Not rated by HKSPA*)
Date: 27 October 2019 (Sun)
Time: 1000-1830
Venue: Room 2312, Li Dak Sum Yip Yio Chin Academic Building, City University of Hong Kong
Number of rounds: 8
Session 2 (HKSPA-rated)
Date: 2 November 2019 (Sat)
Time: 0930-1500
Venue: Room 103, CCC Mong Man Wai College
Number of rounds: 5
Session 3 (CANCELLED)
Date: 10 November 2019 (Sun)

Session 4 (CANCELLED)
Date: 16 November 2019 (Sat)

Session 5 (CANCELLED)
Date: 23 November 2019 (Sat)

Eligibility: All HKSPA individual members are eligible.
Format:

Australian Swiss Draw last round of the session - KOTH
25 minutes per player, WESPA rules version 3, Free challenge (according to the rules of WESPA Youth Cup 2019)
Dictionary: Collins Official Scrabble Words 2019 (CSW19)
Prizes:
As the tournament is training based, no prizes will be presented.
Entry fee:
To play in the tournament, one must be an HKSPA member. Players can join HKSPA Individual Membership before the tournament by filling in the online application form in advance and paying the membership fee (HK$60 for full-time students; HK$150 for others).
Entry fee (not including membership fee):
| | |
| --- | --- |
| | Entry Fee for Each Session |
| Members of Hong Kong Team 2019 | Free of Charge |
| Non-Quota Players for WESPA Youth Cup 2019 | HK$20 |
| Others | HK$30 |
How to enter:
Please fill in an online application form to enter the Championship by first-come-first-serve basis. There will be an overall quota of no more than 30 participants for each session. The organiser reserves the right to refuse entries.
*The first session would not be rated because it is announced by less than 10 days before the session.
Entries
Session 1
| Player | HKSPA Ratings | WESPA Ratings | Remarks |
| --- | --- | --- | --- |
| Brian PO | 2251 | 1367 | Hong Kong Scrabble Team 2019 |
| Euclid HUI | 2201 | 1355 | / |
| Thomson LAW Long Yin | 2123 | 1226 | Hong Kong Scrabble Team 2019 |
| Wesley CHOY Wing Chi | 1891 | 968 | Hong Kong Scrabble Team 2019 |
| Ernest SO Yat Long | 1832 | 803 | Hong Kong Scrabble Team 2019 |
| Julian WONG Tsz Yu | 1599 | 686 | Hong Kong Scrabble Team 2019 |
| FUNG Wang Yin | 1154 | / | Non-quota player in WESPA Youth Cup 2019 |
| HO Fai Yeung | 1094 | / | Non-quota player in WESPA Youth Cup 2019 |
| Tiger LAU Tai Ka | 976 | 372 | Non-quota player in WESPA Youth Cup 2019 |
| CHIU Hei Tung | 791 | / | Player in WESPA Youth Plate |
Session 2
| Player | HKSPA Ratings | WESPA Ratings | Remarks |
| --- | --- | --- | --- |
| Boris CHUNG | 2072 | 1085 | / |
| HO Cheuk Yiu | 1762 | 837 | Hong Kong Scrabble Team 2019 |
| HONG Hoi Ting | 1700 | 791 | Hong Kong Scrabble Team 2019 |
| FUNG Tsz Hin | 1647 | 738 | Hong Kong Scrabble Team 2019 |
| SIU Chun Hong | 1547 | 632 | Non-quota player in WESPA Youth Cup 2019 |
| HONG Jiaen | 1342 | 577 | Hong Kong Scrabble Team 2019 |
| Rex CHAN Hiu Cheung | 1253 | / | / |
| YEUNG Kit Hoi | 1161 | / | / |
| FUNG Wang Yin | 1154 | / | Non-quota player in WESPA Youth Cup 2019 |
| LOU Yuen Ching | 900 | 300 | / |
| SZE Chun Yan | 891 | / | Non-quota player in WESPA Youth Cup 2019 |
| CHIU Hei Tung | 791 | / | Player in WESPA Youth Plate |
Session 3 (CANCELLED)
Session 4 (CANCELLED)
Session 5 (CANCELLED)